Location's Members Tab
The Location's "Team Members" tab lists the team members associated with this location along with their position and primary location. The yellow star under the "MANAGER" column identifies this location's manager.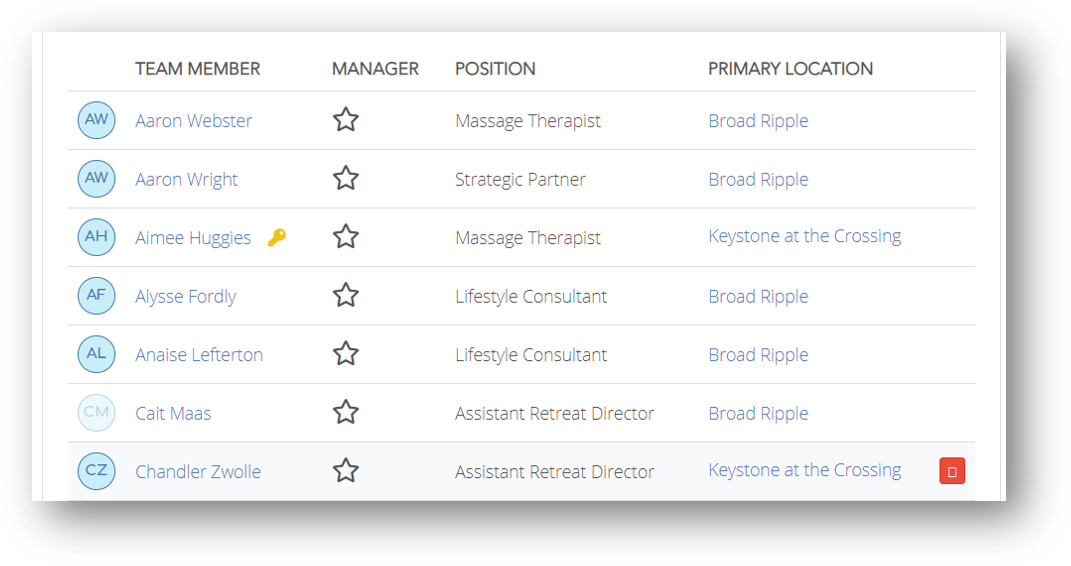 Click on any of the team member's names to view their profile and related information and documents.

To remove a team member from a location, hover over the team member's name to reveal a red trashcan icon and select it. In the example below, I hovered over Kirsten Krauss's name to reveal the red trashcan.
You must then confirm your decision to remove the team member from the location by selecting the red "Save" button.
PRO TIP: You can only remove team members who have a different primary location. In the example above, Kirsten Krauss's primary location was "Keystone at the Crossing" and she was removed from the list of team members associated with the "Broad Ripple" location.
If you have the appropriate security access, you can choose another manager for the location by selecting an unfilled star next to the new manager's name. You'll then have to confirm your decision to change the manager by clicking the green "Save" button (see snapshot below).
The new manager will have a yellow star next to their name now.