The Preventative Maintenance feature in Woven lets you create schedules that dictate when routine maintenance is due for certain groups of assets. These schedules trigger your maintenance team then to complete this maintenance.
You can find the Preventative Maintenance feature under the "Management Menu."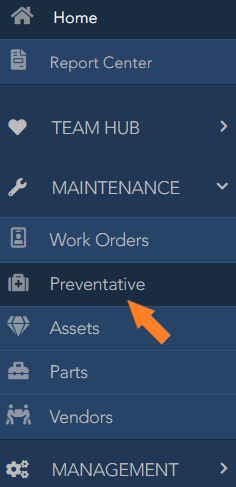 The "Preventative Maintenance" page lists all preventative maintenance that is due or overdue for your affiliated locations. Here, you can also review the number of assets for which their preventative maintenance has started.

To view the assets that have due or overdue preventative maintenance, click a preventative maintenance schedule to open its page. For each asset listed, you will see the status of the maintenance (whether it's been started, is due, or is overdue), the asset tag number, the asset serial number, and the last time preventative maintenance was performed.

Click an asset to start or complete its preventative maintenance. After selecting an asset, a list of preventative maintenance steps appears. After addressing each step, complete the asset's preventative maintenance. Continue addressing each asset until all assets listed in this scheduled maintenance have been addressed.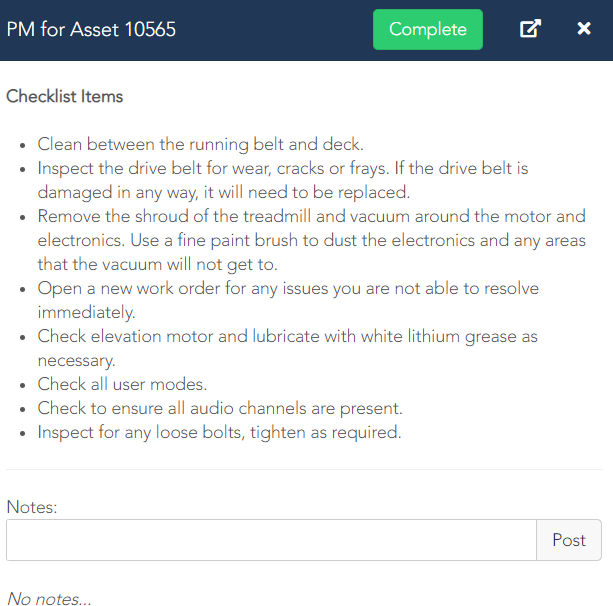 In Preventative Maintenance "Settings," you can create a new schedule and view/edit existing preventative maintenance schedules. For each schedule, you must dictate which assets require this type of preventative maintenance, when Maintenance needs to perform this preventative maintenance, and the actions needed to complete preventative maintenance for each asset. See the "Preventative Maintenance Settings" article to see how to add a schedule and edit a schedule.