The Supplies feature in Woven makes ordering supplies across locations go more smoothly by helping managers submit more appropriate orders and by preventing them from unnecessary, last-minute trips to the store or from paying additional costs for expedited shipping of needed supplies. Once managers have completed their locations' order forms, the Supplies Manager at Corporate or the Multi-Unit Owner can review and process the orders (the "pre-ship" state) then indicate when the orders have been shipped (the "shipped" state). Upon receiving the orders, the location managers mark orders as "received" to complete the ordering process.
Find the Supplies feature under the "Management" menu.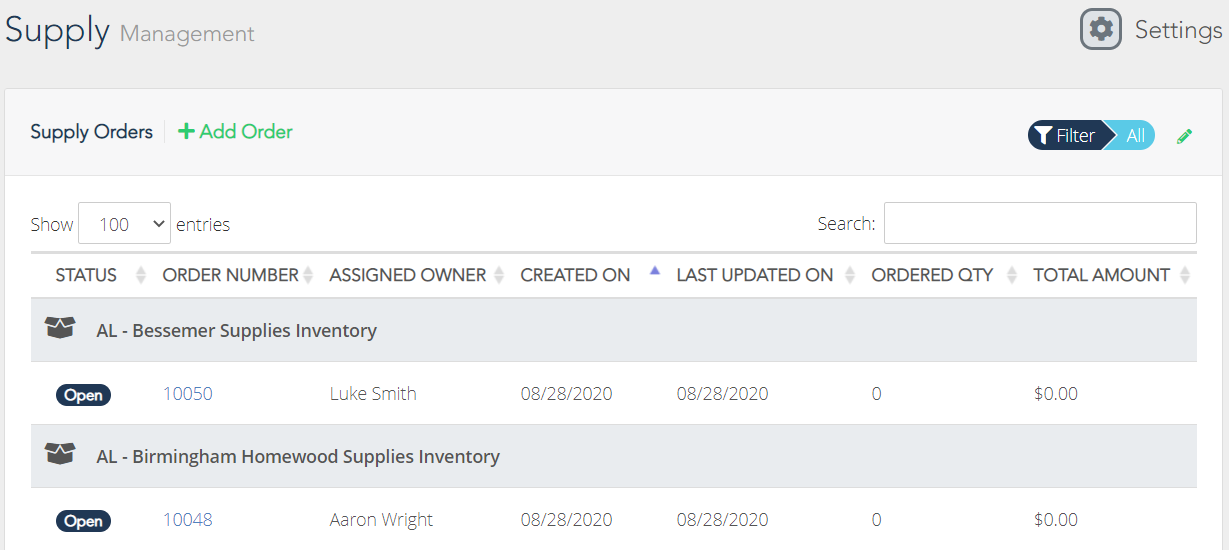 The "Supply Management" tab lists open, pre-ship, shipped and received orders by inventory. Select an "open" order for an inventory to enter in the number of units of each supply that the inventory needs. With the appropriate permissions, you may process orders into different states:
Pre-Ship: the requested supplies are ready to be processed by the team member who manages supply ordering for inventories
Shipped: the requested supplies have been shipped to the inventory (or location)
Received: the shipped supplies have been received by the inventory (or location)
PRO TIP: When processing an open order, you can use "Simple Statues" which only uses the order statuses of "Open" and "Closed." To set up this configuration please review the article Supply Settings.
Last, you may also add a new inventory to the "Supply Management" tab which will allow that inventory manager to submit orders for supplies via Woven.
The "Inventory" tab in "Supply Settings" lists all inventories (whether they are location-based, vehicle, or warehouse inventories) tracked in Woven. By selecting an inventory, you may designate which supplies the manager of that inventory may order. For each supply type, you may customize the rules for ordering it for the selected inventory (e.g., minimum and maximum amounts that can be ordered for that particular inventory).

The "Supplies" tab in "Supply Settings" lists all supplies that are tracked and could potentially be ordered for an inventory. Select a supply to review or define rules for ordering it, where it's purchased, etc.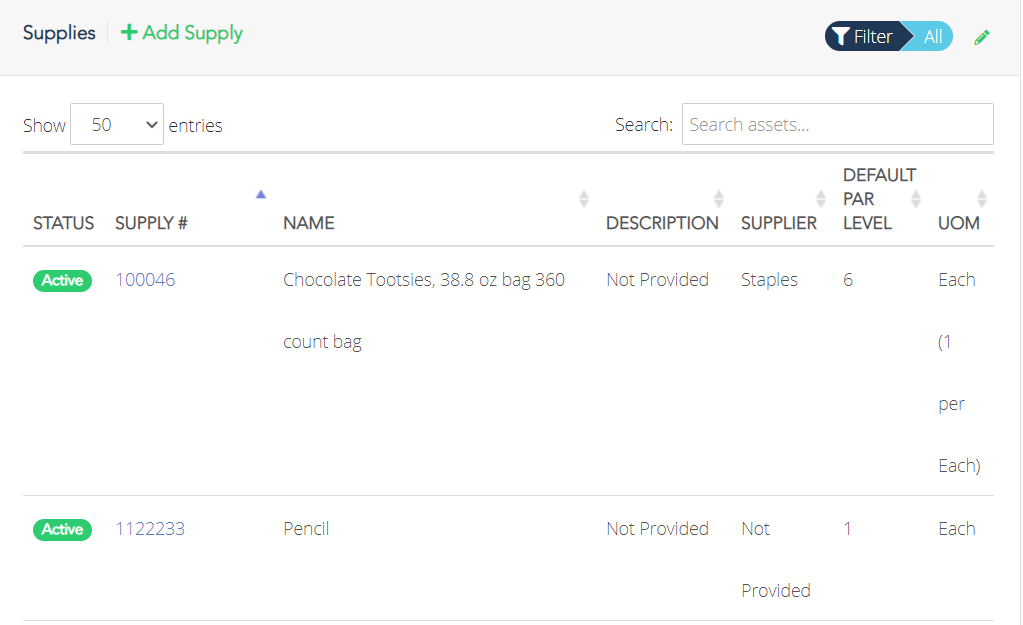 You're ready to use the Supplies feature if you have first updated Supplies Settings then defined what supplies can be ordered (in the "Supplies" tab) and dictated which supplies each inventory can order (the "Inventory" tab). Learn more about updating Supplies Settings.
TROUBLESHOOTING: If you do not see "Supplies" under the MANAGEMENT menu or you don't see the MANAGEMENT menu, you do not have the permissions to use the Supplies feature. Contact your account administrator for access.