The Work Orders Quick-Access Sidebar is a tool that shows a quick snapshot of a specific work order. This tool allows a maintenance tech or whoever is managing a work order to quickly add important information about a work order.
To view the Work Orders Quick-Access Sidebar, click the "Work Orders" tab under the Maintenance Menu. Now click any one of the work orders you would like to review or manage. Once you click the work order, the sidebar will appear on the right side of the screen.

In the Quick Access Sidebar, you can:
Update the priority of the work order. The options for the priority of a work order are:
See who is assigned to the work order, reassign, or add collaborators to the work order.
See or update the status of the parts. The options for parts are:

No Parts Required
Ordered
Shipped
Received
Back Ordered

Enter or update the number of hours spent working on the work order.
Post any relevant notes to the work order.
See any notes that have been posted to this work order.
Add tags.
Follow or unfollow the work order.
Open location contact info.
Close the work order.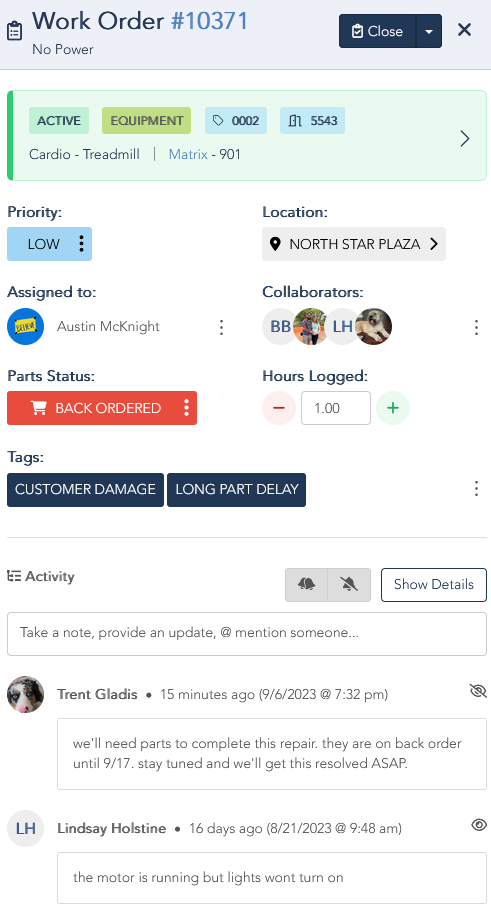 PRO TIP: To make more extensive changes to the work order, click on the down arrow next to the "Close" button to navigate to that work order's main page. Here, you can make general updates, identify participating vendors, upload invoices, the list used parts, and more.