Security
The "Security" tab is where you can create or adjust security roles that dictate what users can see and do in woven. To add a new role:
1. Click "+Add Role"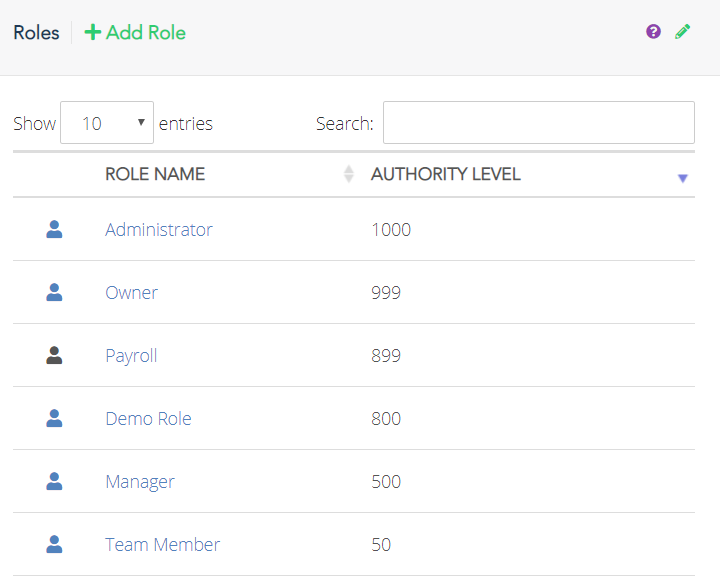 You will be taken to the configuration page of that new role.
2. Click "New Role Name" and enter the name of that role.
3. Give the new role an authority level between 1 and 999. Note that the authority level determines which roles have authority over other roles on a scale of 1 to 999. The higher the number assigned to the authority level, the higher up that role is in the management hierarchy.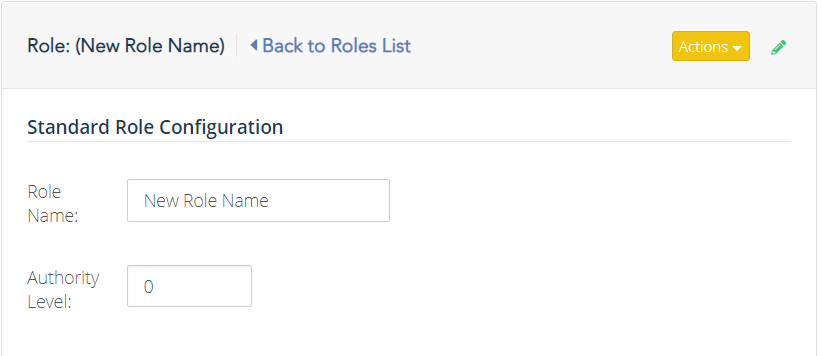 PRO TIP: A new role will display a 0 until it has been updated. A user with permission to add a role is not able to give a role a higher authority level than their own.
PRO TIP: If two roles have the same authority level, they do not have authority over one another.
4. For "Direct Message Access" you will need to click into the box as shown in the image below and select who you would like this role to be able to direct message.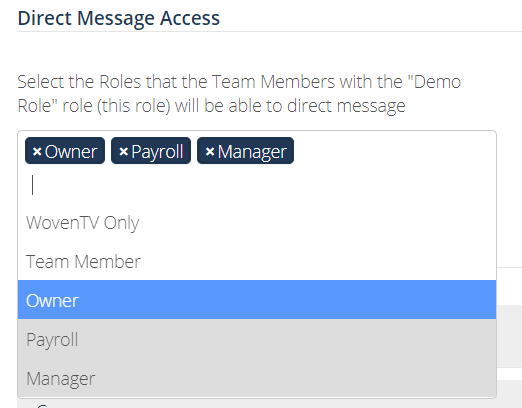 PRO TIP: A team member can direct message other team members who have the same role as them. This is why the "Direct Message Access" field does not list the role that you are currently configuring.
You will now want to give this new role access to sections (or features) in Woven that they will need for their day-to-day operations in Woven. The "Section Access" area of this page lists each feature of Woven.
5. To give team members in this role access to a feature, click "Access" then click the "arrow" icon next to "Access" to specify which parts of the feature that the team member should have access or the ability to use.

PRO TIP: Click "View What Roles Have Access" next to the right of the feature name to see what other roles have access to that specific feature.
6. Select "None," "Read Only," or "Full Access" for each permission of a feature that team members who have this role will be able to access.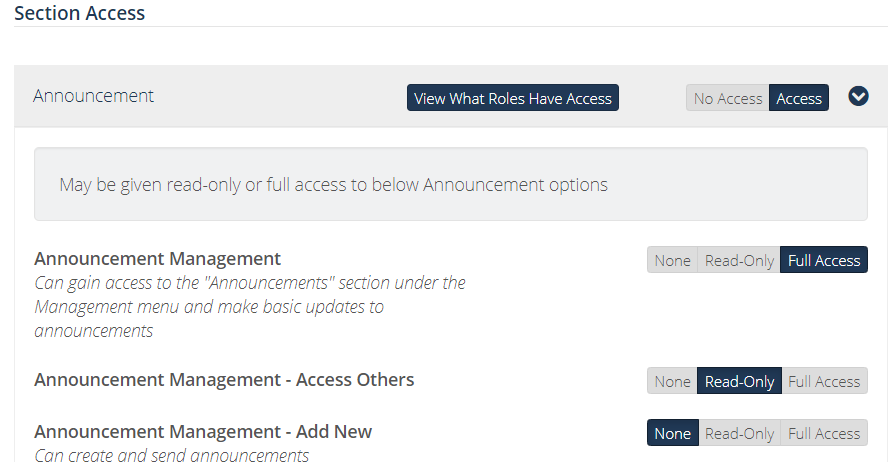 7. Repeat this step for all features for which you give access for team members who have this role.
8. Click "Back to Roles List" at the top of the page to return to the list of roles.
PRO TIP: Click on the person icon next to the role name to display the team members with that security role.